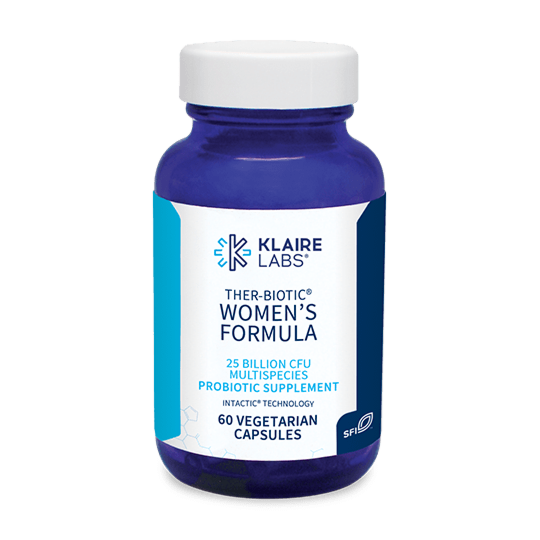 Ther-Biotic Women's Formula
by Klaire Labs
It's Summertime!!
It is NOT uncommon during shipping for the ice pack to melt and the product to be warm upon receipt. We suggest choosing UPS or Priority Mail for the shipping of your Probiotics.
Tests show that warm temperatures can result in as little of 5% loss in potency. 


PLEASE REACH OUT WITH ANY QUESTIONS.
Supports genitourinary microbiota health.

This high-potency hypoallergenic blend of ten certified probiotic species is specifically formulated to support the genitourinary system of girls and women of all ages by promoting a healthy vulvovaginal microbiota. Ther-Biotic® Women's Formula supplies substantial amounts of seven specific Lactobacillus species and three Bifidobacterium species for their role in promoting dominance of normal indigenous vaginal microbiota, restoring a healthy acidic vaginal pH, and supporting against colonization by harmful yeast and bacteria. Lactobacillus acidophilus and L. rhamnosus are included as these two probiotic species produce copious amounts of hydrogen peroxide that antagonize growth of pathogens and lactic acid to restore vaginal pH to a healthy range. Lactobacillus brevis, L. plantarum, L. salivarius, L. gasseri, and L. casei, all normally found in the vaginal microbiota, also produce lactic acid to help create conditions for the re-emergence and dominance of normal indigenous lactobacilli. Bifidobacterium bifidum, B. longum, and B. breve are normal constituents of the vaginal microbiota, resist colonization of the vagina by pathogens such as Escherichia coli and Candida, and promote growth of indigenous healthy lactobacilli.

Suggested Use: 1 capsule daily with food.
Read More