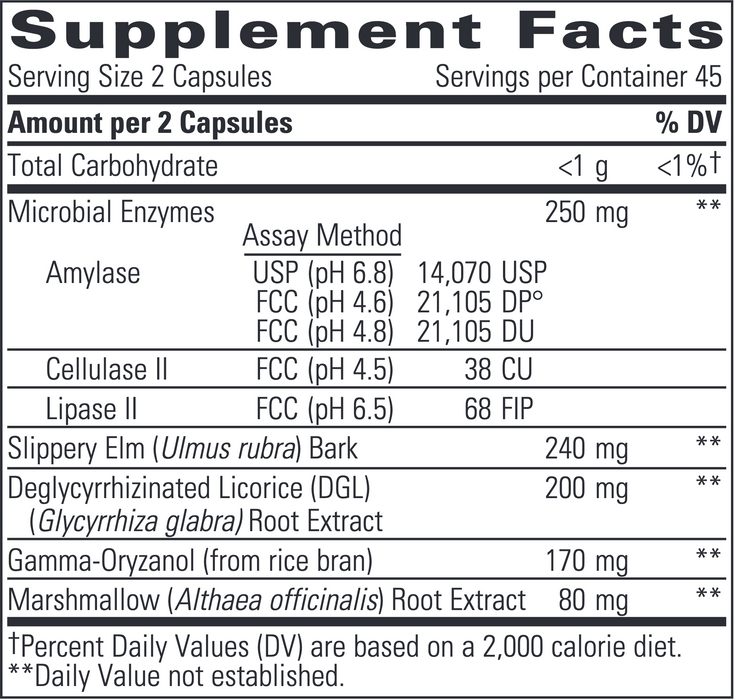 Similase Sensitive Stomach
by Integrative Therapeutics
Similase® Sensitive Stomach combines enzymes and demulcent herbs to provide gentle support for the GI tract.* Similase Sensitive Stomach features Microbial Enzymes and the demulcent herbs, marshmallow and slippery elm, to provide gentle support for digestion.*
Similase Sensitive Stomach

Directions and/or Dosage
Take 1 or 2 capsules three times daily at the beginning of meals, or as recommended by your healthcare professional.
Similase Sensitive Stomach

Ingredients
† Based on 2000 calorie diet.
Other Ingredients
vegetable capsule (modified cellulose), cellulose, ascorbyl palmitate

UPC Codes: 871791001268
Product Numbers: 136006, 136007
Similase Sensitive Stomach

Does Not Contain
artificial coloring
artificial flavoring
dairy products
gluten
ingredients of animal origin
salt
sugar
yeast
Warning
This product contains Slippery Elm. Slippery Elm should not be taken together with any medication as it may interfere with absorption.

If you are pregnant, nursing, or taking prescription drugs, consult your healthcare professional prior to use.

Keep out of reach of children.

This statement has not been evaluated by the Food and Drug Administration. This product is not intended to diagnose, treat, cure, or prevent any disease.
Read More