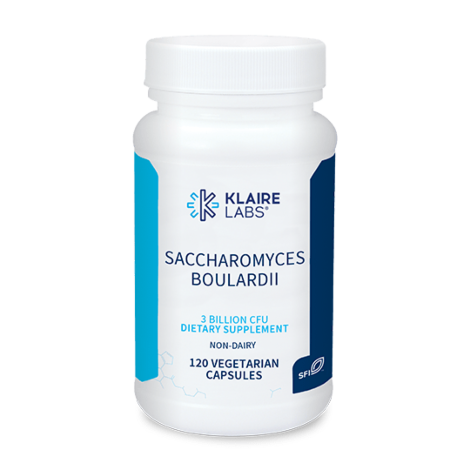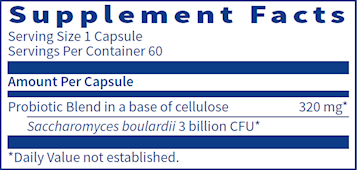 SACCHAROMYCES BOULARDII 120
by Klaire Labs
Saccharomyces boulardii is a nonpathogenic, transient yeast long used to support normal bowel transit time.† It is a hardy, acid-resistant, temperature tolerant microorganism that is not affected by antibacterial agents. S. boulardii is genetically and functionally distinct from brewer's yeast (S. cerevisiae) and different from pathogenic Candida species.

S. boulardii increases the activities of intestinal brush border enzymes such as disaccharidases, α-glucosidases, alkaline phosphatases, and aminopeptidases.†

S. boulardii augments the intestinal absorption of D-glucose coupled with sodium that may enhance uptake of water and electrolytes during occasional diarrhea.† It increases stool concentrations of short-chain fatty acids that nourish colon mucosal cells.† S. boulardii modulates immunity by boosting intestinal secretion of IgA and increasing crypt cell immunoglobulin receptors.† It supports healthy inflammatory response.† Research has found that S. boulardii supports healthy intestinal function in an array of clinical settings, supporting healthy bowel transit time.

Klaire Labs® S. Boulardii is American Type Culture Collection (ATCC) certified and freeze-dried to maintain maximum strength and viability. Klaire uses only lactose-free, gluten-free material. This hypoallergenic formula is available in vegetarian capsules.

S. boulardii is also an important ingredient in ABx Support™, supplying 250 mg (5 billion CFUs).
Note: This product cannot be shipped to Canada. Click here to view the Canadian version. 
Serving Size 1 Capsule
Amount Per Capsule
% Daily Value
Probiotic Blend in a base of cellulose
320 mg
*
Saccharomyces boulardii
3 Billion CFU
*
* Daily value not established
Read More