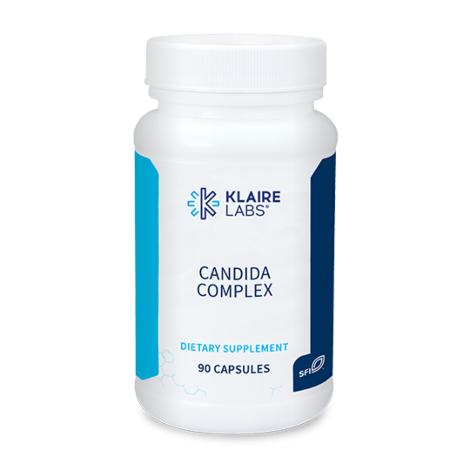 Candida Complex
by Klaire Labs
This powerful phytonutrient complex was designed for restoring and maintaining a healthy, balanced gastrointestinal microbiota. Along with undecylenic acid, this formula also provides berberine and other synergistic factors.
Serving Size 1 Capsule
Amount Per Capsule
% Daily Value
Biotin (D-biotin)
150 mcg
500%
Calcium Undecylenate
100 mg
*
Pau D'arco Extract (Tabebuia avellanedae) (bark)
100 mg
*
Enzyme Blend (microbial-based) Cellulase, hemicellulase, proteases, serrapeptase, amylases, lipase, and chitosanase
100 mg
*
Berberine Sulfate (derived from Indian barberry) (Berberis aristata) (root extract)
50 mg
*
Sorbic Acid
25 mg
*
trans-Resveratrol (Polygonum cuspidatum) (Japanese knotweed root extract)
10 mg
*
* Daily value not established
Other Ingredients:
Vegetarian capsule (hydroxypropyl methylcellulose, water) and microcrystalline cellulose.
Read More