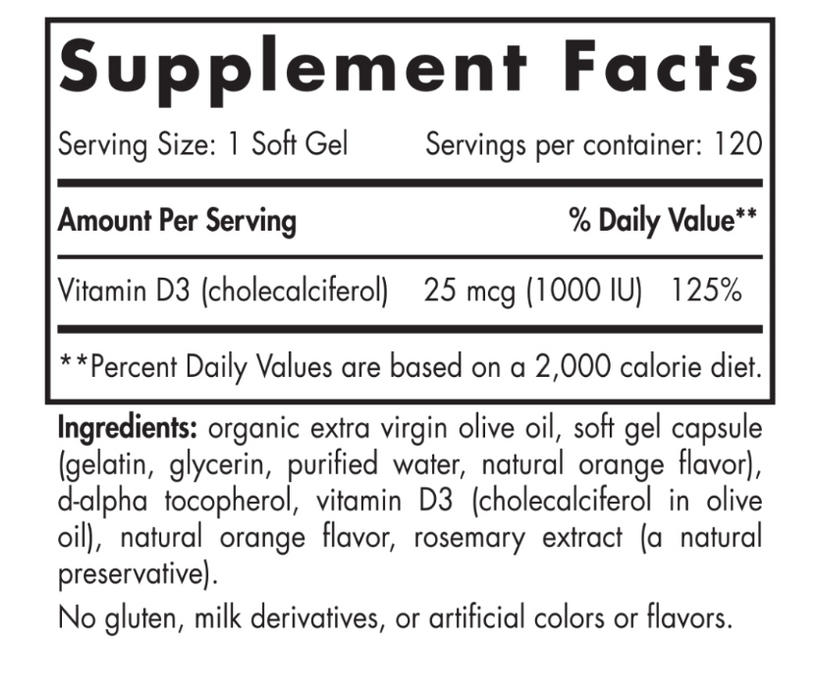 Vitamin D3 Softgels (1000 IU)
by Nordic Naturals
Nordic Vitamin D3™ helps support your bone, mood, and immune health needs, with the form of vitamin D your body naturally makes from sunlight, all in a single, mini-sized daily serving.*
WHY YOU'LL LOVE IT
25 mcg (1000 IU) Vitamin D3

Supports healthy bones, mood, and immune system function*

Delicious natural orange flavor

Easy-to-swallow, mini soft gel
DESCRIPTION
Long known as an essential bone-building nutrient, vitamin D3 also plays a role in regulating your immune system, and modulating mood and circadian rhythms.* Many people don't get enough vitamin D, either because they routinely wear sunblock, spend more time indoors, have darker skin, or live up North. Our Nordic Vitamin D3 formula helps you meet your daily needs with 25 mcg (1000 IU) of natural vitamin D3.
---
THE HIGHEST STANDARDS
Everything we make is non-GMO and third-party tested, surpassing the strictest international standards for purity and freshness. Certificates of Analysis are available for any product.
SUGGESTED USE
One soft gel daily, with food, or as directed by your healthcare professional or pharmacist.
Read More