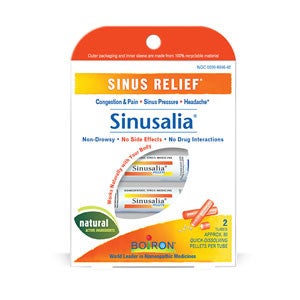 Sinusalia® Pellets
by Boiron
Sinus Relief
USES:*
Temporarily relieves nasal congestion, sinus pain and headache due to the common cold or allergies
DIRECTIONS:
Adults and children 6 years of age and older: At the onset of symptoms, dissolve 5 pellets under the tongue every 2 hours up to 6 times a day until symptoms are relieved.
Children under 6 years of age: Ask a doctor.
ACTIVE INGREDIENTS:**
Belladonna 3C HPUS (contains less than 10-8 mg alkaloids per dose) - Relieves sinus pain with stuffy nose
Sanguinaria canadensis 3C HPUS - Relieves sinus pain with runny nose
Spigelia anthelmia 3C HPUS - Relieves sinus pain with postnasal drip
The letters HPUS indicate that this ingredient is officially included in the Homeopathic Pharmacopœia of the United States.
INACTIVE INGREDIENTS:
Read More
Disclaimer

These statements have not been evaluated by the FDA. These products are not intended to diagnose, treat, cure, or prevent any disease.