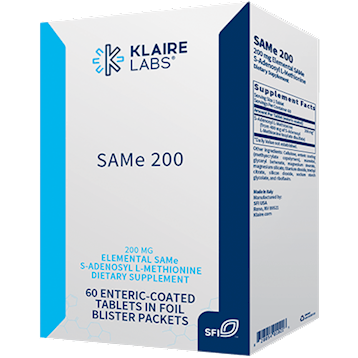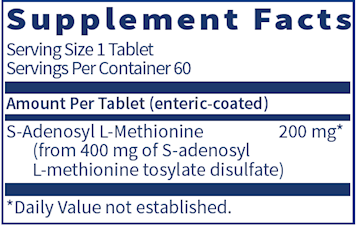 Versatile nutrient supports mood regulation, joints, and liver function.*
An impressive amount of research and long history of clinical use documents the benefits of SAMe. As a modulator of cell membrane fluidity and neurochemical activity in the central nervous system, it helps support mood and optimal brain function.* The sulfur in SAMe is used to help build cartilage and strong joints and for synthesis of taurine and glutathione, used in liver detoxification processes.* SAMe also helps synthesize polyamines required for normal cell growth.*
The reactive nature of SAMe prevents it from being used in combination nutrient products, but it can be stabilized as a single ingredient with careful manufacturing and an enteric tablet coating. This product provides a pharmaceutical grade, stabilized SAMe manufactured under low temperature and low humidity conditions. An enteric tablet coating is applied to further ensure a biologically active product. Each tablet contains a full 200 mg of elemental SAMe from 400 mg SAMe tosylate disulfate.
Servings Per Container:
60
S-Adenosyl L-Methionine (from 400 mg of S-adenosyl L-methionine tosylate disulfate)
200 mg
Other Ingredients:
Microcrystalline cellulose, Magnesium silicate, Food glaze, Magnesium stearate, Stearic acid, Magnesium hydroxide, Glycerol, Silicon dioxide, Arginine, Sodium alginate, Calcium oxide
Wheat Free
Dairy/ Milk Free
Gluten Free
Soy Free
Egg Free
Shellfish Free
Fish Free
Tree Nut Free
Peanut Free
Casein Free
1 tablet, 1 to 6 times daily on an empty stomach or as directed by a healthcare professional.
Free of the following common allergens: milk/casein, eggs, fish, shellfish, tree nuts, peanuts, wheat, gluten, and soybeans.
Caution: If you are pregnant, nursing, have a medical condition, or taking prescription drugs, consult your healthcare professional before using this product. Individuals being treated for neurological conditions, including those using prescribed medications such as antidepressants, serotonin reuptake inhibitors, and monoamine oxidase (MAO) inhibitors should consult their healthcare professional before using this product. Individuals with bipolar disorder or manic depression should not take SAMe 200 unless under medical supervision. Keep out of reach of children.
SAMe 200 is provided in individual foil blister packets to maximize product stability. Do not use if outer seal of blister pack is broken.
Store in a cool, dry place (59ºF-85ºF) away from direct light.
Read More