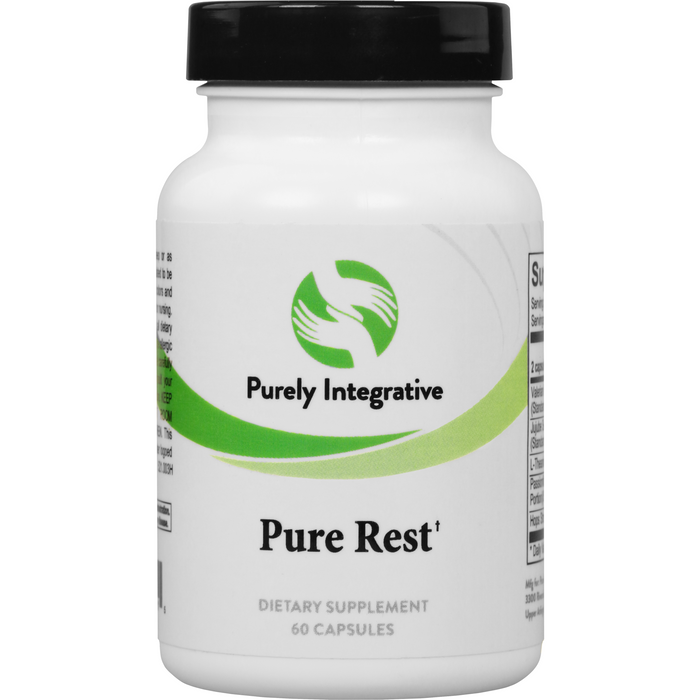 Pure Rest
by Purely Integrative
Compare to Botanicalm PM by Ortho Molecular
Previously Herbal Tranquility PM 
Pure Rest is formulated to induce the relaxation needed to support better sleep for those experiencing temporary sleeplessness.  The formula is especially suited to help those with difficulty falling asleep due to restlessness.
Busy and stressful lifestyles can cause sleep patterns to become disrupted, leading to over-stimulation and restlessness. Gamma-aminobutyric acid (GABA) is the brain's primary neurotransmitter which helps to counteract stress by promoting a sense of relaxation. In the evening, GABA activity should increase in the brain, triggering the sleep cycle. The ingredients in Herbal Tranquility PM work in synergy to support GABA activity and allow for optimal relaxation.
Pure Rest includes valerian root, a well-known herb used to help with sleep-related issues and to produce a state of relaxation. Passionflower and jujube have been used historically to produce a state of relaxation, and have been used in those with overstimulation and scattered thoughts. L-theanine, an amino acid found in green tea, supports resilience to stress by increasing alpha brain wave activity. Two capsules of Pure Rest include 450 mg valerian root extract, 200 mg jujube seed extract, 150 mg passionflower extract, 150 mg L-theanine and 100 mg hops strobile extract.
Suggested Use:
2 capsules one hour before sleep or as recommended by your health care professional
Read More
Disclaimer

These statements have not been evaluated by the FDA. These products are not intended to diagnose, treat, cure, or prevent any disease.

 

 

 

Supplement Facts Serving Size 2 Capsules Servings Per Container 15 & 30 V2 Amount Per Serving % Daily 2 capsules contain Value Valerian Root Extract (Standardized to contain 0.8% Valerenic Acids) Jujube Seed Extract (Standardized to contain 2% Triterpene Saponins) Passionflower Extract (Aerial Portion) (Standardized to contain 3.5% Flavonoids) Hops Strobile Extract * Daily Value not established 450 mg 200 mg 150 mg 100 mg * * 150 mg * * *