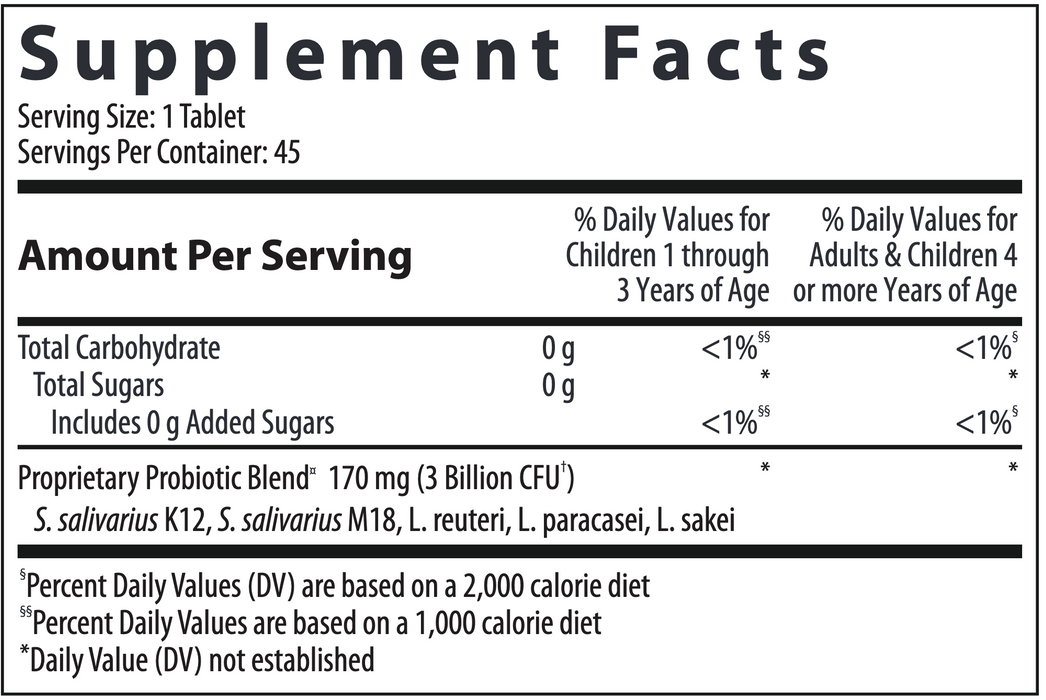 PRO-Kids ENT
by Hyperbiotics
Targeted Oral Probiotic Strains (including S. salivarius K12, S. salivarius M18, L. reuteri, L. sakei, and L. paracasei) because bacterial diversity is key when it comes to oral and dental health.

3 Billion CFU† in a Chewable Tablet. Oral probiotic strains colonize more easily than digestive probiotic strains since they don't have to survive your stomach acids to get where they need to be. These strains are meant to reside on the tongue, tonsils, and ear, nose, and throat area, so chewing them is the perfect delivery method.

Long Shelf Life & No Refrigeration Necessary. With the patented LiveBac® manufacturing process, we offer a guaranteed, extended shelf life with zero refrigeration. Many probiotics don't provide a date of any kind because their organisms die so quickly after being manufactured.

Made in the USA. Our probiotics are manufactured in Washington and Colorado in facilities that are GMP certified through NSF. We adhere to the strictest quality control and FDA guidelines and perform rigorous testing on every lot to ensure they are survivable and as the label states.

Premium Probiotic Supplement. This formula is vegetarian, non-GMO, and free of gluten and yeast. There is also no soy, sugar, iron, nuts, artificial flavors, artificial colors, or preservatives.
Read More