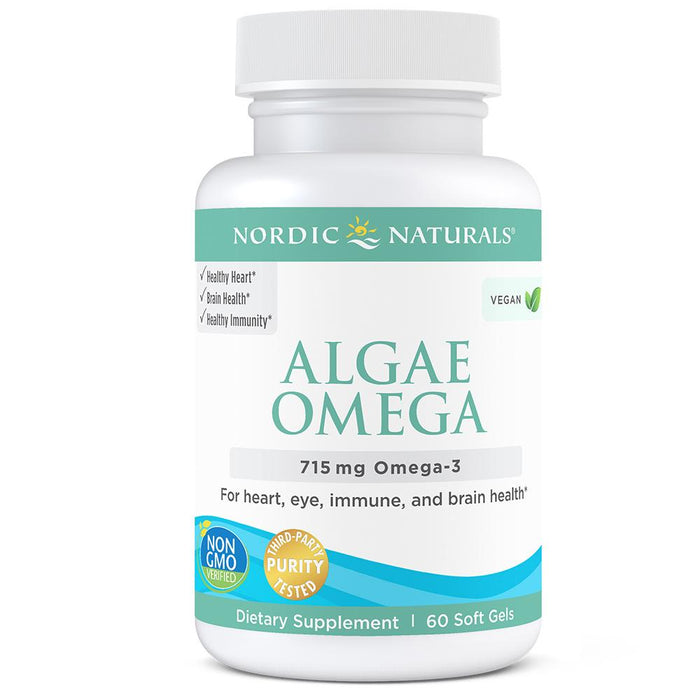 Algae Omega
by Nordic Naturals
Algae Omega gives vegetarians and vegans a great way to meet their daily recommended serving of omega-3 EPA+DHA.
WHY YOU'LL LOVE IT
715 mg total omega-3s, for a higher daily dose than comparable vegetarian options

Made from sustainably-sourced microalgae, the original source of marine omega-3

Non-GMO and hexane free

Supports normal vision, heart and brain health and immunity*

Certified 100% vegetarian by the American Vegetarian Association
DESCRIPTION
It can be difficult for vegans and vegetarians, especially, to get enough essential omega-3 fats from food alone. That's because vegetarian sources of omega-3 provide only ALA (alpha-linolenic acid), a precursor to omega-3s EPA and DHA, which our bodies can't efficiently convert to the EPA and DHA they need.
To get just 500 mg omega-3 EPA+DHA, you'd have to eat a 5-ounce bag of flax or chia seeds. That's a lot of seeds to crunch! Nordic Naturals Algae Omega gives you that same beneficial amount in two, certified-vegetarian soft gels.
Made from sustainably-sourced microalgae, our Algae Omega formula is non-GMO and hexane-free. And because it contains no fish or animal products, it's also suitable for vegans.
---
THE HIGHEST STANDARDS
Everything we make is non-GMO and third-party tested, surpassing the strictest international standards for purity and freshness. Certificates of Analysis are available for any product.
SUGGESTED USE
Two soft gels, with food, or as directed by your healthcare professional or pharmacist.
Read More