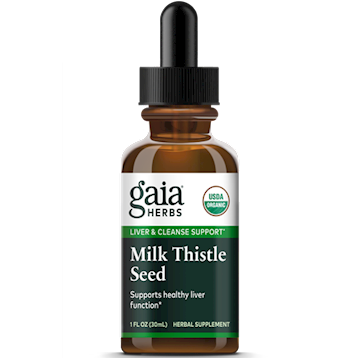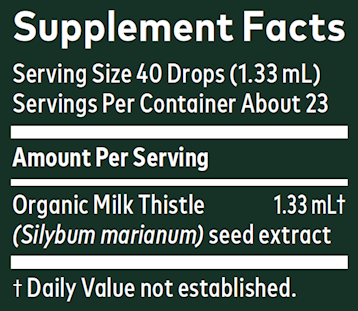 Milk Thistle Seed
by Gaia Herbs
Milk Thistle is an herb well known for its antioxidant properties.  Milk thistle's main active ingredient, a flavonoid called silymarin, is believed to protect liver cells from toxins, particularly lipid peroxidation, and helps to detoxify alcohol, drugs, and other chemical toxins. Silymarin promotes liver cell protein synthesis, decreases the oxidation of glutathione, and assists in the regeneration of glutathione and restoration of cellular thiol status.
Milk Thistle Seed Low Alcohol 1 oz

Dietary Supplement

Product Information
Serving Size: 30 drops
Servings per Container: 30

Amount per Serving:
Extract
- Milk Thistle Seed (Silybum marianum)
Whole Plant Standardization Process
- Total Silymarins 10 mg

Other ingredients: 60% Pure Vegetable Glycerine, Water, <8% Grain Alcohol USP.

Suggested Use: Take 30-40 drops of extract in a small amount of water 3-4 times daily between meals. Not to be used during pregnancy or lactation. If you have a medical condition or take pharmaceutical drugs, please consult with your Doctor before using this product. Use only as directed label.

Keep away from children.
Read More
Disclaimer

These statements have not been evaluated by the FDA. These products are not intended to diagnose, treat, cure, or prevent any disease.