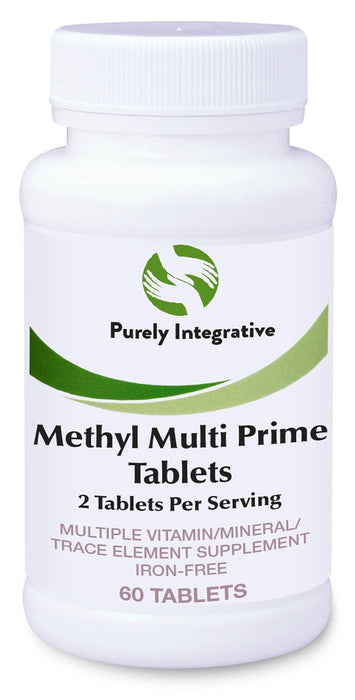 Methyl Multi Prime Tablets
by Purely Integrative
Two-per-day multi-vitamin Iron-free.

This moderate potency multiple vitamin/mineral/trace element supplement is provided in just 2 tablets or capsules daily, yet provides significant amounts of essential nutrients in well-utilized forms. It is ideal as a convenient daily insurance formula and a good alternative for those who cannot or are reluctant to take the recommended 6 daily tablets or capsules of our more comprehensive MultiThera® formulas. VitaPrime® utilizes similar nutrient sources as MultiThera® formulas to maintain efficient bioavailability, but contains reduced amounts of calcium and magnesium and several other nutrients. Activated forms of folate and vitamin B12 are included along with efficiently utilized mineral forms and fat-soluble vitamins. Compared to common, over-the-counter multivitamin products delivered in 1 tablet daily, VitaPrime® offers enhanced antioxidant protection, broader trace element nutrition, and augmented B vitamin support. This core foundation of essential nutrients thus provides an extra measure of nutritional protection that can be recommended for routine daily use.

Suggested Use: 1 tablet twice daily with food.


Read More
Disclaimer

These statements have not been evaluated by the FDA. These products are not intended to diagnose, treat, cure, or prevent any disease.

Serving Size 2 Tablets
Amount Per 2 Tablets
% Daily Value
Vitamin A (58% 1,050 mcg RAE) as natural carotenes (beta-carotene, alpha-carotene and beta-cryptoxanthin) from

 

D. salina

 

and 42% (750 mcg RAE) as vitamin A palmitate)
1,800 mcg RAE
200%
Vitamin C (as L-ascorbic acid)
250 mg
278%
Vitamin D3

 

(as cholecalciferol)
15 mcg
75%
Vitamin E (83% as RRR-alpha-tocopheryl acid succinate, 17% as RRR-alpha-tocopherol)
97 mg
647%
Vitamin K1

 

(as phytonadione)
60 mcg
50%
Thiamin (as thiamin HCl)
25 mg
2,083%
Riboflavin
15 mg
1,154%
Niacin (67% as niacinamide and 33% as niacin)
60 mg NE
375%
Vitamin B6

 

(as pyridoxine HCl)
15 mg
882%
Folate (as Metafolin®‡

 

calcium L-5-methyltetrahydrofolate)
680 mcg DFE
(400 mcg)
170%
Vitamin B12

 

(as methylcobalamin)
50 mcg
2,083%
Biotin (D-biotin)
300 mcg
1,000%
Pantothenic Acid (as calcium D-pantothenate)
50 mg
1,000%
Choline (as choline bitartrate)
75 mg
14%
Calcium (95% as calcium citrate-malate and 5% as calcium D-pantothenate)
100 mg
8%
Iodine (from kelp)
150 mcg
100%
Magnesium (as TRAACS®

 

magnesium bisglycinate chelate, magnesium oxide‡‡)
100 mg
24%
Zinc (as TRAACS®

 

zinc bisglycinate chelate‡‡)
15 mg
136%
Selenium (as complex of sodium selenite and rice protein)
200 mcg
364%
Copper (as TRAACS®

 

copper bisglycinate chelate‡‡)
2 mg
222%
Manganese (as TRAACS®

 

manganese bisglycinate chelate‡‡)
2 mg
87%
Chromium (as TRAACS®

 

chromium nicotinate glycinate chelate‡‡)
150 mcg
429%
Molybdenum (as TRAACS®

 

molybdenum glycinate chelate‡‡)
100 mcg
222%
Boron (as boron aspartate-citrate complex)
2 mg
*
Vanadium (as bisglycinato oxovanadium)(BGOV)
50 mcg
*
Inositol
25 mg
*
Citrus Bioflavonoids Complex (85 mg as citrus bioflavonoid extract (50% bioflavonoids) and 15 mg as hesperidin methylchalcone)
100 mg
*
Natural Mixed Tocopherols (RRR-beta, RRR-delta, RRR-gamma)
4 mg
*
Natural Mixed Carotenoids (lutein and zeaxanthin from

 

D. salina)
20 mcg
*
* Daily value not established

Other Ingredients:

Cellulose, croscarmellose sodium, silicon dioxide, vegetable stearine, acacia gum, magnesium stearate, natural citrus flavor, and cellulose coating.

 

‡Metafolin® is a registered trademark of Merck KGaA, Darmstadt, Germany.
‡‡Albion® and TRAACS® are registered trademarks of Albion® Laboratories, Inc.