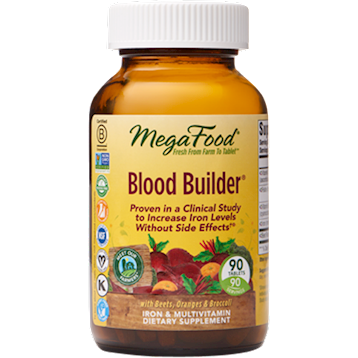 Blood Builder
by Mega Food
Blood Builder was shown in an 8-week clinical trial to increase iron levels in individuals with low iron without causing nausea or constipation*
#1 selling iron supplement in tablet form
A gentle and effective potency of Foodstate Iron (26 mg/serving)
*
†
B12 and Folate, vitamins to help maintain healthy red blood cell production*
Safe for menstruating women, including teenage girls; pregnant women, vegans and vegetarians; athletes, and recent blood donors, all of whom are at increased risk of iron deficiency*
Naturally combats fatigue and improves energy levels*
Crafted using our Slo-Food Process™

 

with FoodState®

 

beetroot from Stahlbush® Island Farms and FoodState®

 

Vitamin C from Uncle Matt's Organic oranges
Easy to digest and absorb, even on an empty stomach
Available in a convenient one tablet per serving
Suggested Use: 1 tablet daily. May be taken anytime throughout the day, even on an empty stomach.
Warning: Accidental overdose of iron-containing products is a leading cause of fatal poisoning in children under six. Keep this product out of reach of children. In case of accidental overdose, call a doctor or poison control center immediately.
This MegaFood product is made with real food sourced from our trusted family farm partners, wholesome nutritional yeast, carefully selected herbs and added vitamins. Each vitamin is paired with an ideal whole food using our unique process to deliver guaranteed potency and the benefit of health-promoting compounds present in the whole food itself.
Read More