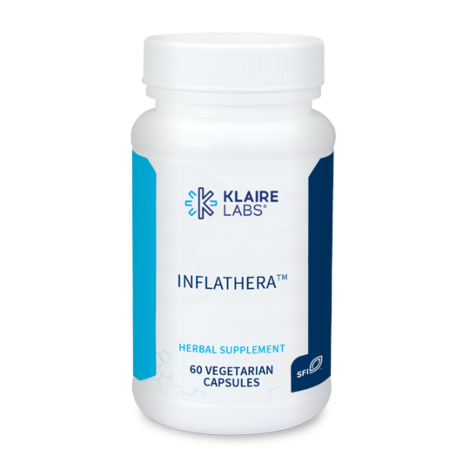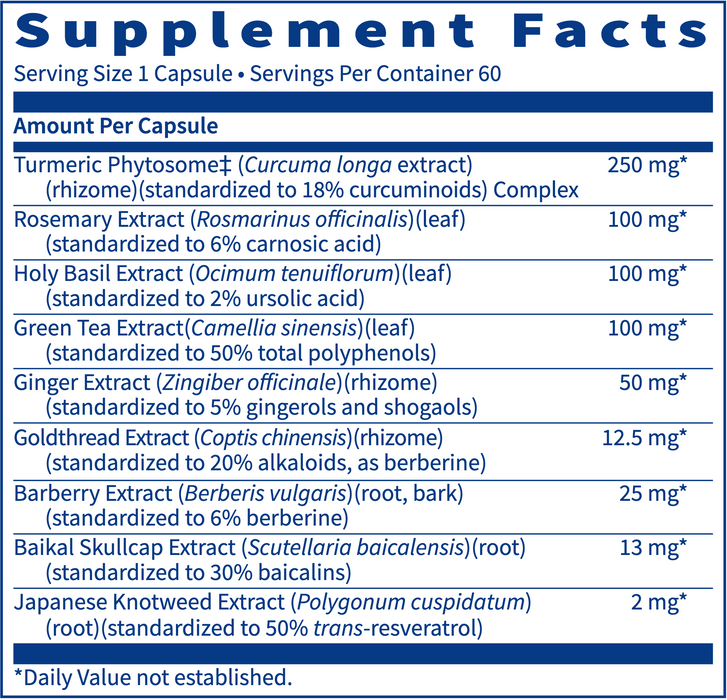 Inflathera
by Klaire Labs
The body's ability to maintain a natural balance of enzymes such as cyclooxygenase-1 and 2 (COX-1 and COX-2) that help regulate inflammatory physiological response mechanisms and detoxification enzymes is critical to the health of the entire body. In fact, these metabolic processes play a crucial role in supporting cardiovascular, immune, neurological, joint, and connective tissue functions. The herbal extracts in InflaThera™ contain multiple, beneficial compounds with documented ability to help modulate COX enzymes, scavenge free radicals, and promote physiological balance in susceptible tissues in a safe and harmonious fashion.† Meriva® brand turmeric, a key ingredient in InflaThera™, combines turmeric extract with phosphatidylcholine forming a bioavailable turmeric phytosome complex that is significantly better absorbed than regular turmeric extracts. InflaThera™ is a powerful, synergistic combination that augments the actions of MultiThera® multivitamin formulas and can be useful for almost all types of individuals.
Other Ingredients:
Vegetarian capsule (hydroxypropyl methylcellulose, water), microcrystalline cellulose, lecithin (sunflower phosphatidylcholine), maltodextrin, starch, and ascorbyl palmitate.
 ‡Meriva® brand bioavailable curcumin. Meriva® is a registered trademark of Indena S.p.A., Italy.
Suggested Use
Adults: 1 capsule, 2 times daily with food or as directed by a healthcare professional.
Allergy Statement
 Free of the following common allergens: milk/casein, eggs, fish, shellfish, tree nuts, peanuts, wheat, gluten, and soybeans. Contains no artificial colors, flavors, or preservatives.
Caution
Do not exceed the recommended amount. Not for use by persons under 18 years of age. Take with meals. If you are pregnant, nursing, have a medical condition (including liver, bile duct or gallbladder dysfunction), or taking prescription drugs, consult your physician before using this product. Do not take this product if you have liver disease or elevated liver enzymes. If you experience nausea, vomiting, abdominal pain, yellowing of the skin/eyes, dark urine, sweating, unusual tiredness and/or loss of appetite, stop using this product and contact your physician. Each capsule contains up to approximately 8 mg caffeine. KEEP OUT OF REACH OF CHILDREN.
Serving Size 1 Capsule
Amount Per Capsule
% Daily Value
Turmeric Phytosome‡

 

(Curcuma longa

 

extract)(rhizome)(standardized to 18% curcuminoids), Phosphatidylcholine Complex
250 mg
*
Rosemary Extract (Rosmarinus officinalis) (leaf) (standardized to 6% carnosic acid)
100 mg
*
Holy Basil Extract (Ocimum tenuiflorum) (leaf)(standardized to 2% ursolic acid)
100 mg
*
Green Tea Extract(Camellia sinensis) (leaf) (standardized to 50% total polyphenols)
100 mg
*
Ginger Extract (Zingiber officinale) (rhizome) (standardized to 5% gingerols)
50 mg
*
Goldthread Extract (Coptis chinensis) (rhizome) (standardized to 20% alkaloids, as berberine)
12.5 mg
*
Barberry Extract (Berberis vulgaris) (root, bark) (standardized to 6% berberine)
25 mg
*
Chinese Skullcap Extract (Scutellaria baicalensis) (root) (standardized to 30% baicalins)
13 mg
*
Japanese Knotweed Extract (Polygonum cuspidatum) (root) (standardized to 50%

 

trans-resveratrol)
2 mg
*
* Daily value not established
Read More