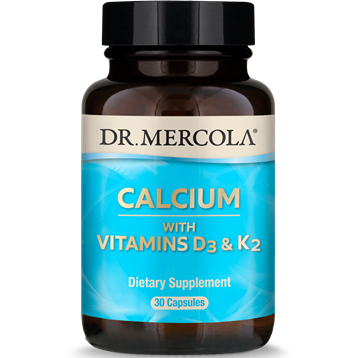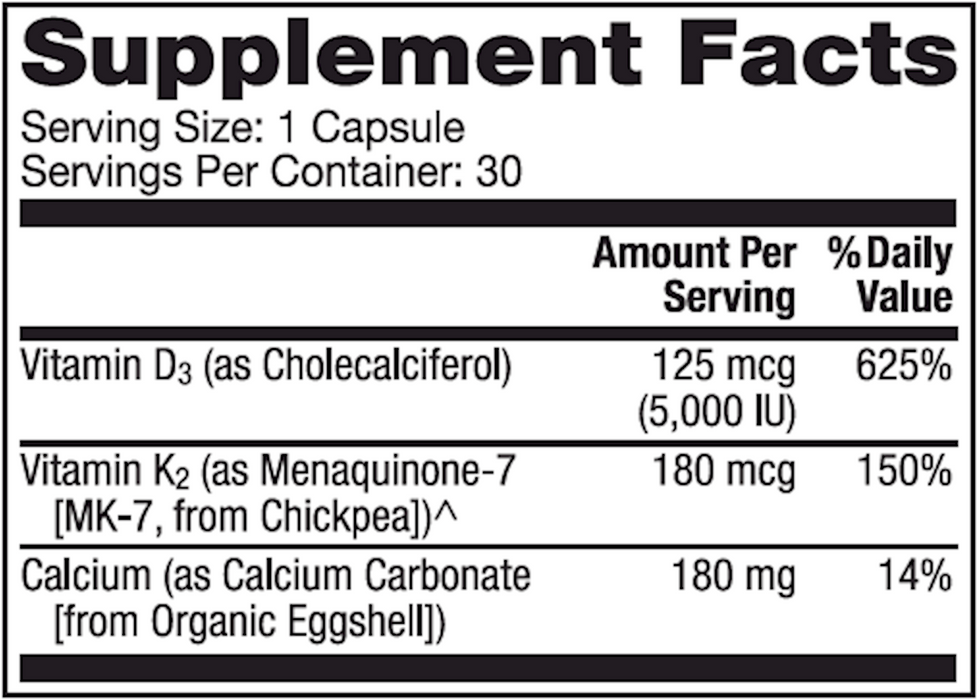 Dr. Mercola Calcium with Vitamin D3 + K2
by Dr. Mercola
Many people today do not get enough of the nutrients needed for supporting their bone health. You need to build strong, dense bones now to get you through a lifetime of active, independent living. Building strong, healthy bones requires regular weight-bearing exercise and the right balance of nutrients, especially calcium, vitamin K2 and vitamin D3. Taking calcium alone or in the wrong proportions with other minerals can potentially increase your risk of cardiovascular concerns.

Calcium with Vitamins D3 & K2 provides the perfect balance of bone health-supporting nutrients*:
• Whole food Calcium Carbonate from Organic Eggshell is a 100 percent natural and sustainable source of high-elemental calcium with its own essential trace minerals and naturally occurring transport proteins for maximum absorption and bioavailability.*
• Vitamin K2 from fermented chickpeas in its patented and clinically supported form MenaQ7® helps maintain or increase bone density and strength, support optimum calcium absorption and utilization, and support cardiovascular health and normal blood flow.*
• Vitamin D3 as Cholecalciferol (5,000 IU) supports the actions of calcium and vitamin K2 to help strengthen bones and increase bone-density levels.*
Servings Per Container:
30
Amount Per Serving
% Daily Value
Vitamin D3 (as Cholecalciferol) (5,000 IU)
125 mcg
625%
Vitamin K2 (as Menaquinone-7 [MK-7, from Chickpea])
180 mcg
150%
Calcium (as Calcium Carbonate [from Organic Eggshell])
180 mg
14%
Other Ingredients:
Capsule (Hydroxypropyl Methylcellulose), Glycerol Monostearate, Organic Rice Hull Concentrate, Maltodextrin, Modified Starch, Sucrose, Ascorbyl PaImitate, Rosemary Extract
Suggested Use: Adults, as a dietary supplement, take one (1) capsule daily with a meal. 
Read More