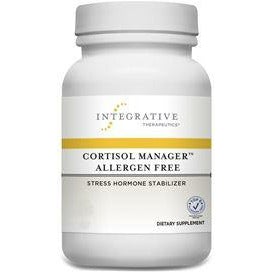 Cortisol Manager Allergen Free
by Integrative Therapeutics
Cortisol Manager – The Stress Hormone Stabilizer
Cortisol Manager is the number one choice of practitioners for balancing cortisol levels*†, trusted for more than a decade. Cortisol Manager Allergen Free is the newest member of the Cortisol Manager family, free of all top 8 food allergens. Cortisol Manager or Cortisol Manager Allergen Free are ideal for patients who struggle with occasional sleeplessness due to stress, resulting in elevated evening cortisol.*
They are formulated with stress-reducing ingredients and botanicals to promote relaxation, help alleviate fatigue, and support healthy cortisol levels.* By balancing cortisol levels, these formulas help reduce stress, which supports a restful night's sleep without diminishing daytime alertness.*
Cortisol, often referred to as the "stress hormone," is produced by the adrenal cortex in response to signals from the hypothalamus and pituitary gland, as part of the hypothalamic-pituitary-adrenal (HPA) axis.
Ashwagandha (Sensoril brand)
L-theanine
Phosphatidylserine
Magnolia
Epimedium

Cortisol Manager™

 

Allergen Free
 

Does Not Contain
artificial flavoring
dairy products
eggs
gluten
ingredients of animal origin
milk
peanuts
preservatives
salt
soy
sugar
wheat
yeast
Warning
Do not use if you are pregnant. If nursing, diabetic, or taking prescription drugs, consult your healthcare professional prior to use.
Notes
Keep out of reach of children.
Also contains no: fish, tree nuts, shellfish
Read More