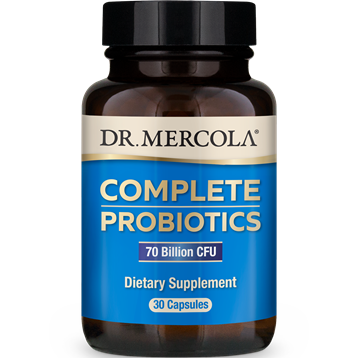 Complete Probiotics 70 Bill CFU
by Dr. Mercola
Today more than ever, you need an effective way to help support a healthy balance of microbes in your gut.
By nourishing your healthy microbiome, you support many key functions in your body, including your digestion, absorption of nutrients, immune function, the actions of your genes, cellular health, a normal allergic response, mood, vaginal (for women) and urinary tract health.*
Suitable for both short-term use and long-term maintenance, all of Dr. Mercola's Complete Probiotics flood your body with 10 strains of exceptional beneficial bacteria, including long-lasting L. acidophilus DDS-1, which supports your health in many different ways.
Their formula also contains Fructooligosaccharide (FOS) as a form of prebiotics to help the probiotic bacteria grow and flourish in your body.*
Probiotics must reach your small intestine to do their best work. To enhance the potent acid- and bile-resistance of our Complete Probiotics (70 Billion CFU), Dr. Mercola uses patented DRcaps™ capsules to provide an extra layer of protection to help against harsh stomach acids so the probiotics reach your small intestine.
The first of their kind, these acid-resistant hard capsules are made of a vegetable substance that slows down capsule opening after swallowing, a real plus for fragile probiotic strains that work best in your intestine.
Dr.Mercola's Complete Probiotics (70 Billion CFU) offers many potential benefits:
• 10 different probiotic strains help support the balance your microbiome*
• Demonstrates high potency through independent laboratory tests
• Helps support your digestive and colon health*
• Contains valuable prebiotics for optimal probiotic performance
• Helps support cellular health*
• Is acid- and bile-resistant for maximum survival
• Supports cholesterol levels already in a healthy, normal range*
• Helps promote normal stools*
• Packed in acid-resistant, delayed release patented hard capsules
• Adapts naturally to the human body
Servings Per Container:
30
Dr. Mercola's Special Blend:
270 mg
Lactobacillus acidophilus DDS®-1
Streptococcus thermophilus
Other Ingredients:
Microcrystalline cellulose, delayed release cpasule (hydroxypropyl methylcellulose, gellan gum), fructooligosaccharides, ascorbyl palmitate, silicon dioxide
Read More