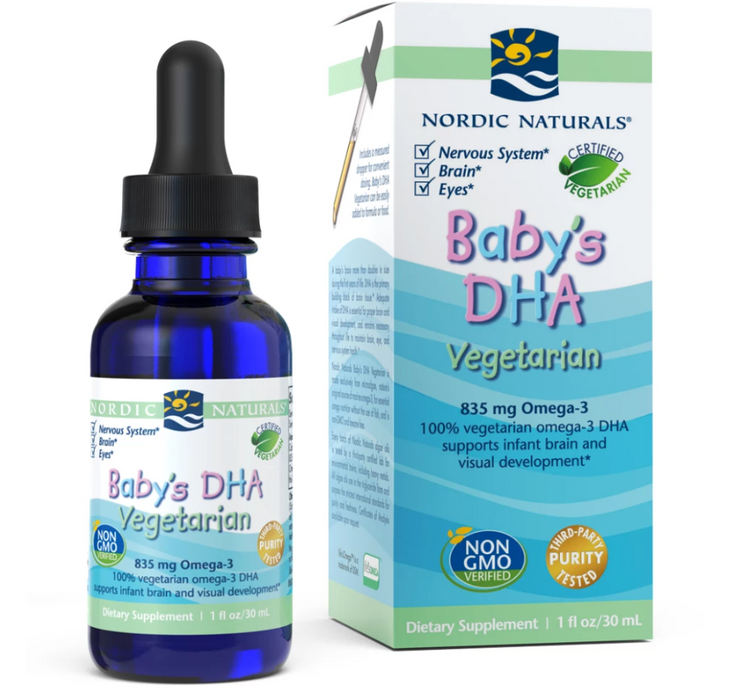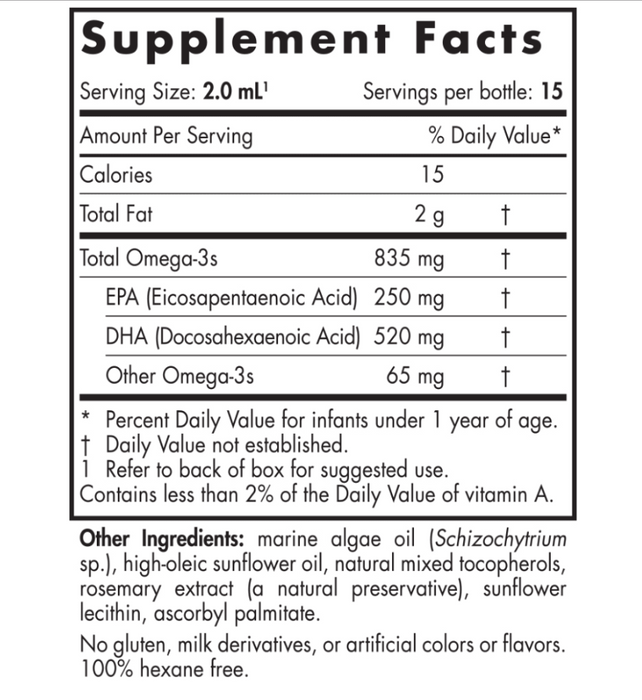 Baby's DHA Vegetarian
by Nordic Naturals
Baby's DHA Vegetarian is a pure, safe, and certified vegetarian source of the omega-3 DHA that your baby needs.* 
WHY YOU'LL LOVE IT
835 mg total omega-3s

Recommended for babies 5-35 lbs

Made exclusively from 100% vegetarian marine microalgae

Clearly marked dropper for easy measuring

Certified by the American Vegetarian Association

The Official Vegetarian Baby's DHA of the American Pregnancy Association

Non-GMO and hexane-free
DESCRIPTION
Omega-3 DHA is especially important during the first years of life when your baby's brain, eyes, and nervous system are rapidly developing.* Nordic Naturals Baby's DHA Vegetarian gives you a safe, plant-based source for this structural building block. Made exclusively from our 100% vegetarian Algae Omega formula, Baby's DHA Vegetarian is hexane-free and certified by the American Vegetarian Association. Use the included measured dropper for easy addition to bottle or food.
---
THE HIGHEST STANDARDS
Everything we make is non-GMO and third-party tested, surpassing the strictest international standards for purity and freshness. Certificates of Analysis are available for any product.
SUGGESTED USE
Suggested use by body weight
5-10 lb:

 

0.5 mL

11-20 lb:

 

1.0 mL

21-25 lb:

 

1.5 mL

26-35 lb:

 

2.0 mL

For babies 6 months or older or as directed by your pediatrician.
For best results, please refrigerate and use within three months after opening.
Read More