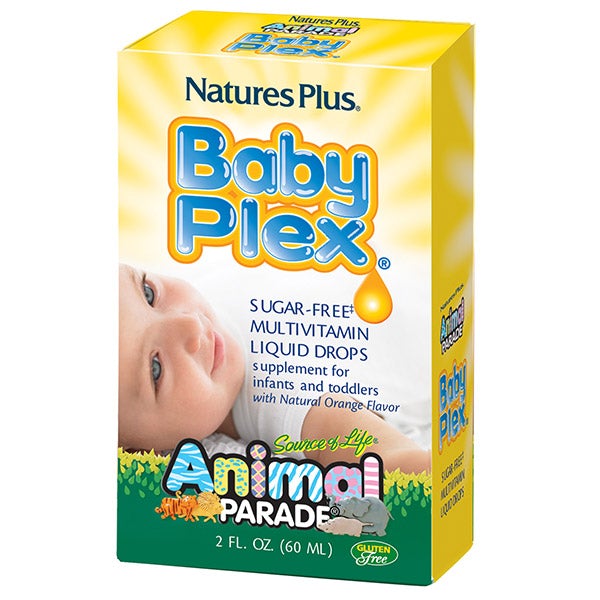 Baby Plex Multi-Vitamin Liquid
by Nature's Plus Animal Parade
Source of Life® Animal Parade® Baby Plex® liquid vitamins for infants and toddlers are sugar free, with a natural, yummy orange flavor and a convenient dropper applicator. Source of Life Animal Parade Baby Plex is perfectly balanced for maximum absorption, supporting optimal development and well-being during this important life stage. With superior-quality, natural nutrition, babies can realize the amazing feat of growth - and blossom into happy, healthy children. When it comes to baby's health, only the best nutrition will do: Nature's Plus® Animal Parade Baby Plex!
Supplement Facts
Serving Size: 1 mL
Servings per Container: 60
Amount Per Serving % Daily Value
Vitamin A (as palmitate) 1500 IU 100%
Vitamin C (as ascorbic acid) 43.75 mg 125%
Vitamin D (as calciferol) 400 IU 100%
Vitamin E (as d-alpha tocopherol) 5 IU 100%
Thiamin (as thiamine HCl) (vitamin B1) 0.625 mg 125%
Riboflavin (vitamin B2) 0.75 mg 125%
Niacin (as niacinamide) 10 mg 125%
Vitamin B6 (as pyridoxine HCl) 0.5 mg 125%
Vitamin B12 (as cyanocobalamin) 2.5 mcg 125%
Biotin 25 mcg 50%
Pantothenic Acid (as d-panthenol) 3.75 mg 125%
Choline (as bitartrate) 3 mcg *
Percent Value for Children 12 mos. to 4 yrs,:
Vitamin A 60%
Vitamin C 109%
Vitamin D 100%
Vitamin E 50%
Thiamin 89%
Riboflavin 94%
Niacin 111%
Vitamin B6 71%
Vitamin B12 83%
Biotin 17%
Pantothenic Acid 75%
Choline (as bitartrate) *
*Daily value not established.
Other Ingredients: Purified water, vegetable glycerin, fructose, polysorbate 80, natural orange flavor, trace sodium benzoate and trace potassium sorbate.
Available Sizes:
Product No. 29988 - 2 fl. oz. / 60 ml Bottle (60 Servings)

This product is hypo-allergenic.
This product is gluten free.
This product is vegetarian.
Read More
Disclaimer

These statements have not been evaluated by the FDA. These products are not intended to diagnose, treat, cure, or prevent any disease.