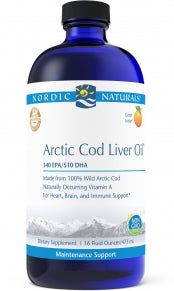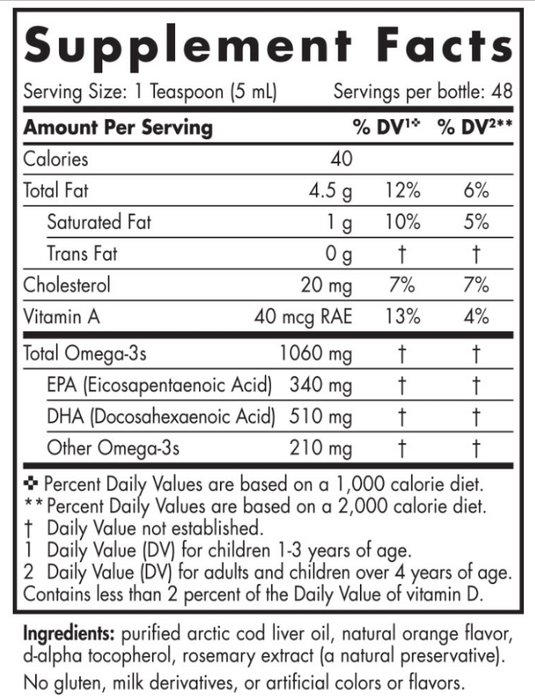 Arctic Cod Liver Oil Orange
by Nordic Naturals
Sustainably sourced in Norway, the award-winning Arctic Cod Liver Oil™ is the gold standard.
WHY YOU'LL LOVE IT
750 mg total omega-3s (soft gels); 1060 mg total omega-3s (liquid)

Made exclusively from 100% wild Arctic cod

Promotes heart and brain health, and supports the immune and nervous systems*

Available unflavored or in natural lemon, orange, or strawberry flavors

Winner of numerous awards, including Clean Eating Magazine's Clean Choice Award
DESCRIPTION
The fish oil that started it all, Nordic Naturals classic Arctic Cod Liver Oil is made from 100% wild Arctic cod from the Norwegian Sea. No fish body oils or synthetic vitamins or additives are ever used. This non-concentrated formula surpasses strict international standards for freshness and purity set by the European Pharmacopoeia, and is considered the gold standard for cod liver oil. Available in both liquid and soft gels, and in flavored and unflavored formulas.
---
THE HIGHEST STANDARDS
All Nordic Naturals' fish oil products are offered in the triglyceride molecular form—the form naturally found in fish, and the form your body most easily absorbs.* Everything we make is non-GMO and third-party tested, surpassing the strictest international standards for purity and freshness. Certificates of Analysis are available for any product. Nordic Naturals fish oils are Friend of the Sea (FOS) certified and sustainably made in a zero waste facility powered by biofuel.
SUGGESTED USE
This great formula comes in different serving options:
For soft gels:

 

Take three soft gels daily, with food, or as directed by your healthcare professional or pharmacist.

For liquid:

 

Take one teaspoon daily, with food, or as directed by your healthcare professional or pharmacist. For best results, please refrigerate and use within three months after opening.