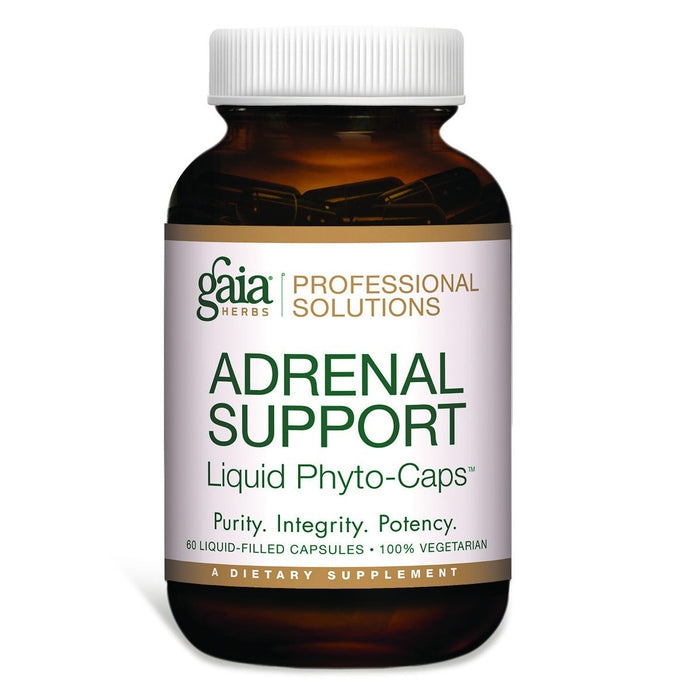 Adrenal Support (HPA Axis)
by Gaia Herbs
Supplement Facts
Serving Size: 2 capsules
Servings Per Container: 60

Amount per Serving:
Calories 20

Alcohol-Free Concentrated Extracts of:
- Rhodiola root, standardized to 6mg Rosavins (Rhodiola rosea) 120 mg
- Holy Basil Supercritical Extract - standardized to 3.86mg total Eugenols (Ocimum sanctum) 50 mg

Proprietary Synergistic Blend: 350 mg
- Wild Oats Milky Seed (Avena sativa)
- Schisandra Berry (Schisandra chinensis)
- Ashwagandha Root (Withania somnifera)
- Holy Basil leaf (Ocimum sanctum)

Each 2 capsules contain 6,400 mg crude herb equivalent.

Other ingredients: Vegetable glycerin, vegetable cellulose (capsule)

Suggested Use: Take 2 capsules with a small amount of water 2 times daily after meals. Not to be used during pregnancy or lactation. If you have a medical condition or take pharmaceutical drugs, please consult with your Doctor before using this product. Keep away from children. Use only as directed on label.

Alcohol free.

Meet Your Herbs is an industry-first traceability program developed by Gaia Herbs, allowing you to view the full history of the herbs in their products. Click below on "Meet Your Herbs" to see where the herbs were grown, how they were harvested and extracted, and results of analytical tests performed.
Read More
Disclaimer

These statements have not been evaluated by the FDA. These products are not intended to diagnose, treat, cure, or prevent any disease.