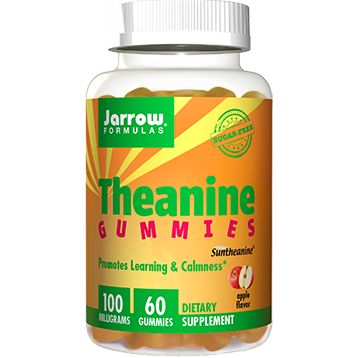 Theanine Gummies
by Jarrow Formulas
Jarrow Formulas® Theanine Gummies deliver 100 mg L-Theanine per gummy. Theanine is a unique amino acid found almost exclusively in green tea that exerts beneficial effects on brain metabolism.* Theanine induces relaxation without causing drowsiness, as measured by increased generation of alpha-waves.* Theanine may promote calmness by affecting dopamine and serotonin neurotransmitters in the brain.* Also, theanine may exert supportive effects on the brain by helping to maintain healthy metabolism of glutamate.*
Jarrow Formulas® Theanine Gummies incorporate theanine that is made enzymatically from amino acids and is identical to the theanine found in green tea.
Wheat Free
Dairy/ Milk Free
Gluten Free
Vegetarian
Soy Free
Vegan
Egg Free
Shellfish Free
Fish Free
Peanut Free
For children ages 8 and up, chew 1 gummy per day on an empty stomach or as directed by your qualified healthcare professional.
No wheat, no gluten, no soybeans, no dairy, no egg, no fish/shellfish, no peanuts/tree nuts. Suitable for vegetarians/vegans.
Store in a cool, dry place. Do not refrigerate.
Keep out of the reach of children.
Read More